An A-Z of everything Comme des Garcon containing everything you need to know about the CDG universe. Including links to runway shows.
Does it matter what you wear? Does it matter how you wear it? If it fits or not? For Comme des Garcons it does not. They force you to explore and experiment. Often sizing in one size (that being 'X'). The clothing Comme des Garcons creates presenting to you a challenge. How the F — k do I wear this? Requiring you to figure out a way to personally create your own style. To me, that is what Rei Kawakubo introduces throughout everything within Comme des Garcons that has made her and her company one of the most important Fashion houses around.
I have been obsessed with Comme des Garçons for quite a while now, and diving into its universe was intense I have collected and created this sort of A-Z of CDG. It mainly focuses on Rei Kawakubo (founder of Comme des Garçons) but also everything that has surrounded her throughout her life, from protégés to her process.
The Comme des Garçons universe is extreme and this article is no doubt supposed to cover everything. Rather it is to give a comprehensive look or brand analysis of the empire that is Comme des Garçons. If It is missing anything please drop a comment below.
At the bottom you will find further reading & viewing material, all the runway shows that could be found on the internet. Also, every reference that was used to create this article. So grab a tea, some biscuits and enjoy!
---
Adrian Joffe
To get to Rei Kawakubo, you need to get past her husband and translator Adrian Joffe. He has overseen and architected Comme des Garçons commercial and creative rise alongside Rei Kawakubo to create the unconventional brand empire.
Advertising
Fashion brands these days, present products and models to express a brand. Comme des Garçons offer simple, raw and modest aesthetics. Only showing the product on a few occasions. They are designed to portray cultural symbolism and pop-culture references. Comme des Garçon's advertising is designed more to entertain and engage than to inform about the brand's products. I can easily imagine finding their adverts found hanging in an art gallery on a white wall. Gallery here.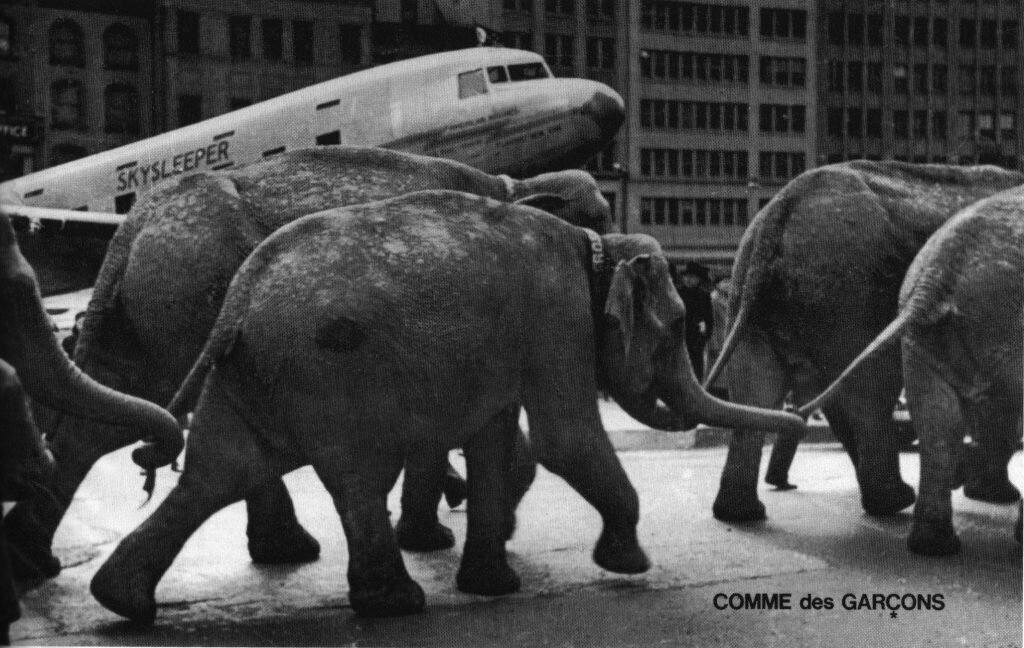 Anti-Fashion
Comme des Garçons enjoyed its first taste of success in Japan during the early 1970s, and by 1975 Kawakubo was showing Comme des Garçons collections all over Tokyo. But in 1981, Kawakubo showed in Paris for the first time, which was widely considered the dawn of the "anti-fashion" era. Kawakubo took the gaudy Feminine silhouettes and flipped them on their head. Gaining the title 'ragpicker' due to her use of flawed fabric, The Christian Science Monitor later published: "Comme des Garçons (Like the Boys) might more aptly be titled Comme des Clochards (Like the Tramps)". It was disliked at the time.
Aoyama
The first CDG store opened on the second floor in Minami-Aoyama Tokyo. The store set out to cater to a woman 'who is not swayed by what her husband thinks. Taking a completely different approach to the luxury fashion emporium.
Black(Colour)
The New York Times wrote this in regards to Kawakubo and her use of the colour black, stating that black isn't just a colour for Kawakubo — It's an entire Palette.
The colour black quickly became synonymous with Kawakubo's aesthetic. When Comme des Garçons made its Paris Fashion Week debut in 1981, the clothes drew attention in their absolute absence of colour — an impression that was underlined by interviews with Kawakubo, herself invariably dressed in blacks. She wasn't the first to design in black,— Chanel transformed it from a colour of mourning into a colour of fashion in the 1920s, with her little black dresses, and designers had used it ever since…when the Harvard School of Design gave Kawakubo an Excellence in Design Award in 2000, they stated that she "invented" black. Maybe not — but she did reinvent it.
Comme des Garçons BLACK
BLACK is Comme des Garçons most affordable line launching in 2009 (when the recession was at its peak) it provides staples at prices 60% lower than the rest of the Comme's high-fashion offerings. Black was originally designed to be temporary but has since become a popular permanent line for Comme des Garçons.
CDG
On April 28th Adrian Joffe began to tease a new addition to the Comme des Garçon universe. Initially described as an "internet-based brand", but later revealed to be CDG. Its direction is aimed towards a younger demographic, where it can be seen as an affordable gateway drug to the rest of the Comme des Garçons such as Junya Watanabe MAN, CdG SHIRT, Homme, or Homme Plus.
Celebrity
Rei Kawakubo has had a huge influence on culture since the beginning and it hasn't gone unnoticed. We have seen the likes of Kanye West, Lady Gaga, Azealia Banks, Kendrick Lamar, Pharrel and many more.
Collections and Show-Notes
Normally at fashion shows, designers give in-depth detail about their collection poetically explaining the reasoning behind the collection but Rei gives only one powerful sentence. Examples include;
In the world of today information is so easily obtained — there is perhaps too much information.
Comme des Garçons Comme des Garçons
 (AKA Comme Comme)
Although their are roots of Comme des Garçons Comme des Garçons (Comme Comm) dating back to early 1980s when Comme des Garçons Robe de Chambre was launched to offer simple garments for women. But in 1993 Comme Comme launched delivering a similar offering with more accessible garments. By 2004 Robe de Chambre had merged into Comme Comme.
Comme Comme is essentially the Comme des Garçons Homme but for womenswear. And is designed as runway pieces that can be worn at home and in the wardrobes of everyday people.
Design
"I wasn't limited to the confines of a pattern. Not being educated, not being taught how to design, I was able to visualise in a completely different context. And I still seem able to draw upon the unconventional." - Rei Kawakubo
Dover Street Market
The underlying ethos of Dover Street Market is 'beautiful chaos'
An idea created by Kawakubo and Joffe to function as an experiential retail space. DSM works to house all of the brands Kawakubo owns, alongside selected companion brands such as Undercover, Thom Browne or Gucci. The first store opened in London in Dover Street in London's Mayfair neighbourhood. Followed by Dover Street Market Ginza, Dover Street Market New York, Singapore and Beijing. Dover Street Market offers a variety of products across all tastes, categories and price ranges.
Comme des Garçons Homme Plus Evergreen
Comme des Garçons Homme Plus Evergreen is an extension of the Homme Plus range. And was designed to offer re-editions of past collections. Pieces were reworded in various ways, materials changed of new colours were added in an attempt to bring new life into the clothing. This line is now discontinued.
Fumito Ganryu
"Pop, avant-garde and basic." That was Fumito Ganryu's tagline *. The designer found his footing in the wide world of Comme des Garçons by cutting his teeth as a pattern-maker for Comme heavyweight Junya Watanabe. Ganryu plays define his work as "forward-thinking casual-wear." It has been seen as a sort of outlier to the Comme des Garçons universe due to often being described as absurdist streetwear, as it plays canvas sneakers, denim jackets, workwear trousers, and tailored shirting, rather than the familiar classic tailoring.
Ganryu
GANRYU offers unique silhouettes and "neutral styles by combining opposing elements" in attempts to achieve what Fumito calls "universal items". Through his ultimate goal of creating something completely new and distinct, Fumito aims to produce designs that inspire himself and others in the process.

Fragrance
In 1994, Comme des Garçons introduced its first perfume. Rei designed the first perfume to be designed like a pebble. The brief to Christian Astuguevieille was "you're in a black swimming pool where the water is black. It's such a pleasant feeling that you don't want to leave and keep on swimming." *. It was left around the swimming pool at the Ritz Hotel in Paris. Rei designed it to create emotion and pleasure for the person who wears and loves it.
"A fragrance should always be worn for your own pleasure, not necessarily to seduce. It's not conceived for a man or a woman: it's "non-gender", only for the one who loves it." – Rei Kawakubo *
Good Design Shop
Launched in 2011 The Good Design Shop is a space in most of the Dover Street Market stores you will inevitably find a section filled with heavily branded Comme des Garcons garments, accessories and shoes. This is the Good Design Shop created is a joint venture with Tokyo-based retailer Kenmei Nagaoka. It's an assortment of brand logo pieces and is home to some of the most commercially successful items from Comme des Garçons.
In 2018, Joffe announced the partnership between CdG and Kenmei Nagaoka had come to a close.
Gosha Rubchinskiy
Gosha Rubchinskiy (Russian: Гоша Рубчинский) is a protégé to Adrian Joffe and started off his career creating T-shirts centred around skaters and post-soviet youth. After meeting Gosha Rubchinsky, Adrian Joffe placed an order for Dover Street Market in 2008.
Gosha's line performed well and Comme des Garçons ended up purchasing the trademark and business guided by Adrian Joffe. in 2018 Comme des Garçon announced that it would cease to exist.
Comme des Garçons Homme
Comme des Garçons Homme (CdGH) was one of the first labels to exist within the Comme des Garçons universe in 1978. It is designed to be more conservative and traditional yet still challenges conventional menswear. Injected with just enough Comme DNA to differentiate itself from other brands, CdGH still draws on classic menswear elements to offer a cohesive whole that the various sub-brands can't match independently.
Comme des Garçons Homme Deux
Comme des Garçons Homme Deux was Founded in 1987 and is designed to be is business-wear, It's easy to wear, tastefully elegant, and not restrictive to the body. It's the aesthetic sensibility of Japan's business elite but with Comme des Garçons additions such as oversized buttons or exaggerated lapels. Homme Deux in essence classic menswear but done just a bit differently.
Comme des Garçons Homme Plus
Founded just after CdGH in 1984 and immediately shown at Paris Fashion Week, CdG Homme Plus serves as Kawakubo's purest vision of the men's wardrobe *. The garments that makeup CDGH+ are often not readily wearable, nor are they 'affordable'. The pieces are often collected as covered 'Art' pieces for all the Comme Connoisseurs.
Inspiration
Rei Kawakubo in Vouge has stated that she is "finding new inspiration is growing more and more challenging the longer she is in fashion — and she's worried that today's crop of designer talent don't have what it takes to succeed her".
"The motivation has always been to create something new, something that didn't exist before. The more experience I have and the more clothes I make, the more difficult it becomes to make something new," admits Kawakubo. "Once I've made something, I don't want to do it again, so the breadth of possibility is becoming smaller."
Continuing this in another interview in WWD
"There are few people who, like us, have the values and the way of thinking to really try hard," she tells WWD. "They lack discipline. And it's not just fashion, I think [young people] get satisfied too easily. They're not strict enough with themselves. They're too soft on themselves."
Interior design
Comme des Garçons approach their stores in the same way that they approach their garments, by not conforming, often blending sculpture and clothing all "presented to the customer like objects in a museum". They use Interior designers such as Ab Rogers design
Infusing the avant-garde and the commercial, Rei Kawakubo has defined luxury retail. Twice a year they close Dover Street Market for two days to completely reinvented it, introducing new brands in a new environment.
Each floor has its own personality and its own sort of feeling.
Junya Watanabe
Janya Watanabe started his career as a pattern-maker at Comme des Garçons but quickly became an unofficial protégé for the iconic Rei Kawakubo. Following the launch of his namesake label under the Comme des Garçons umbrella, the prolific designer garnered international critical acclaim for his mastery in conceptual designs, pattern manipulation and innovative use of synthetic materials. Launched in 1992, Watanabe presented his first collection in Paris in 1993, adding a menswear line for the Spring/Summer 2001 season.
Hailing from Fukushima in central Japan, Watanabe attended the world-renowned Bunka Fashion Institute in Tokyo, graduating in 1984. Having joined Comme des Garçons shortly after, Watanabe worked his way steadily upwards and in 1987 was named as design director of the Tricot knitwear line, holding the position until 1992.
Jean-Michel Basquiat
In 1987 Jean-Michel Basquiat modeled for Comme des Garçons in Paris.
Kiss
Models in the Comme des Garçons Fall 2009 collection wore tulle masks embroidered with red sequins in the shape of a lipstick kiss smudge.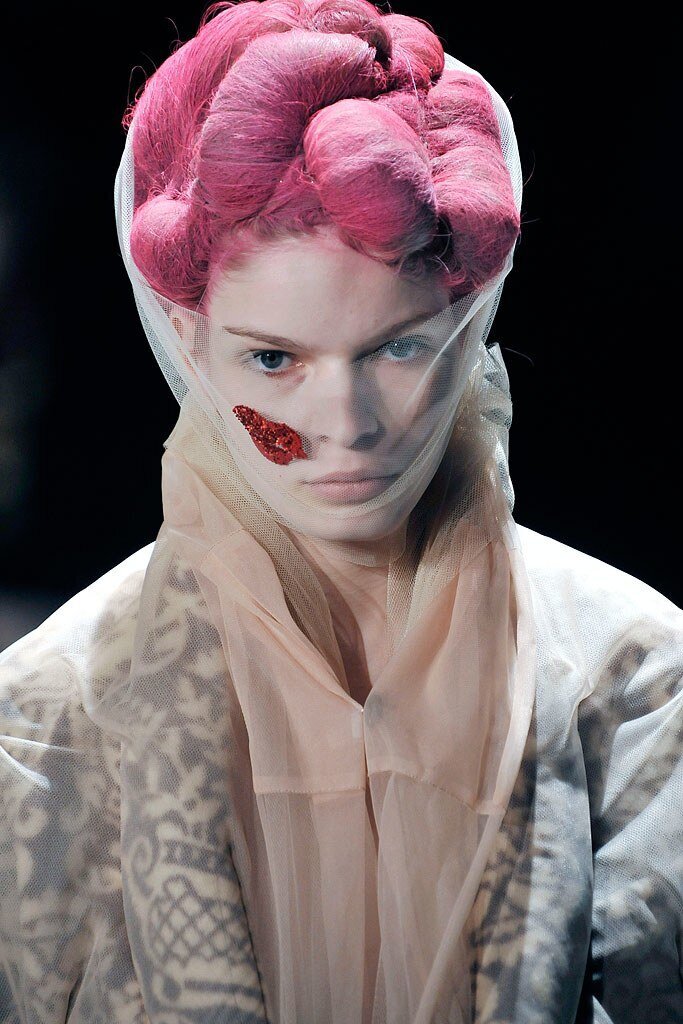 Lee Alexander McQueen
Lee Alexander McQueen also modelled for Comme des Garçon in the A/W97, which was the start of Alexander McQueen's lifelong love affair with Rei Kawakubo's work. Comme des Garçons made up much of his own personal wardrobe.
Alexander McQueen said "Rei doesn't compromise, nor should she…I think that every designer you ask will be influenced by Rei in one way or another but what makes them a good designer is them moving the Rei concept on for their own label,".
MET
Rei Kawakubo is the first living designer given a solo show at The Met's Costume Institute since 1983 with the wildly popular "art of the in-between". The show featured approximately 140 examples of Rei Kawakubo's womenswear for Comme des Garçons. The show's curator was curator Andrew Bolton.
Music
Frédéric Sanchez is a French sound artist and music producer who debuted with a custom mix for a Maison Martin Margiela runway show. This subsequently leads him to work across almost all of the top fashion brands. His works include sound collages, mixes, original compositions, and sound installations.
Sanchez works with designers on a conceptual level. Getting them to explain the stories behind the work and what their inspiration is often looking at their mood boards rather than their collection.
He is a collector and researcher. In an interview with BoF he mentioned,
"We have over 100 hard drives [in my studio] covering every kind of music: classical, opera, experimental jazz, music scores," he says. "Plus, I'm buying records, films, books almost every day. In the beginning [of my career], I was always going to record stores, but now with Amazon and eBay, it's nonstop. I'm always reading about experimental music from the '50s, '60s and '70s; when I read something I don't know, I go on the Internet and then, maybe this artist is related to this artist… suddenly you have a huge vast world [to research and discover]."
His client list is endless. Some examples of who Frédéric Sanchez has worked with across with such Ready-to-wear and Haute-Couture are Prada, Comme des Garçon, Jil Sander, Louis Vuitton, Hermès, Valentino, Jean-Paul Gaultier, Givenchy, Calvin Klein, Marc Jacobs, Ann Demeulemeester, Yves Saint Laurent, Acne, Dior.
In an interview, Frédéric Sanchez described Rei Kawakubo to give very open briefs sometimes just a couple of words such as 'Eighteenth-century punk' and then lets him do the rest.
Name
Comme des Garçons name is rumoured to have been taken from a Françoise Hardy track Tous les garçons et les filles. (translation: "Like Some Boys"), yet the true origin of the name is uncertain.
Spotify: Tous les garçons et les filles by Françoise Hardy.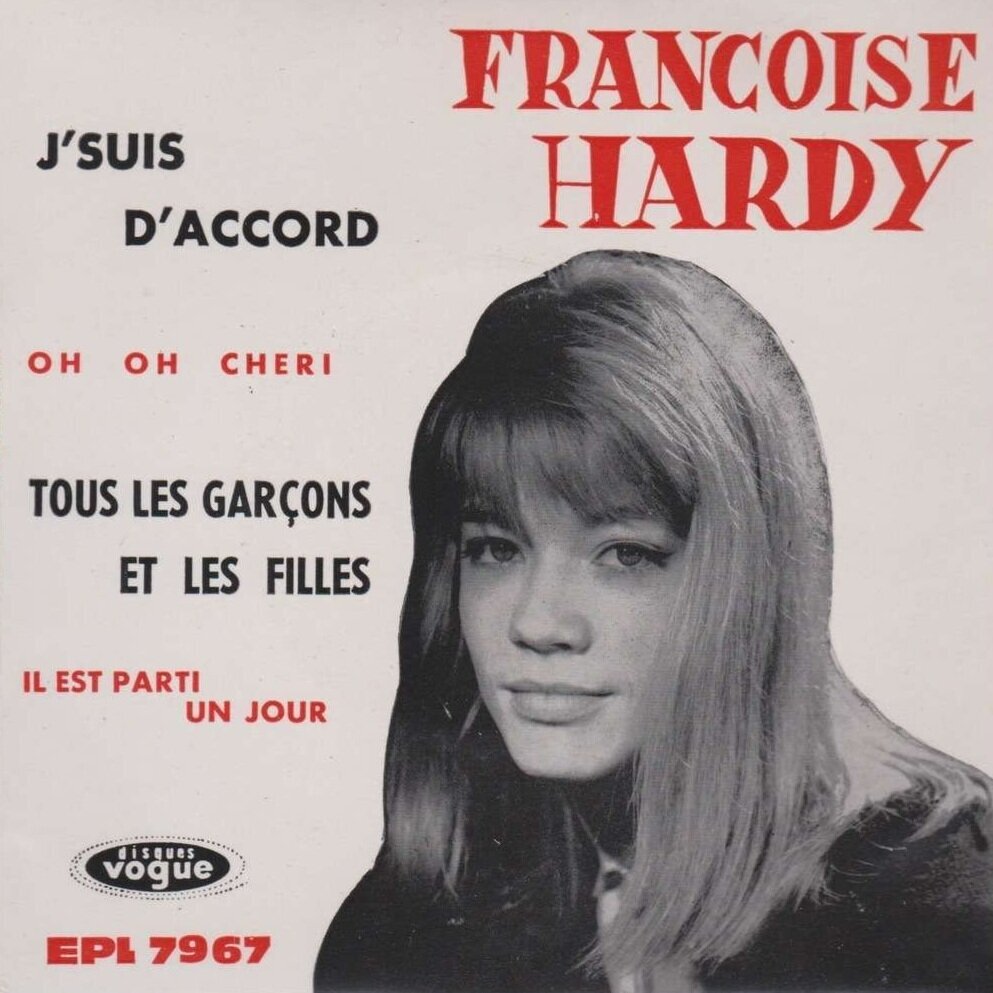 Noir Kei Ninomiya
Kei Ninomiya was hired in 2008 as a pattern maker for Comme des Garçon and within four years was hired was offered to create his own label under the name Noir Kei Ninomiya. Hiss line (as the name implies) focuses on presenting solely black and white collections.
One of Kei Ninomiya signature construction methods putting together garments through a series, linking garments through laser cutting pieces.
"Ninomiya's specialty is the way he deals with repetition, creating challenging structures by obsessively multiplying small modules. His crafty aesthetic is a mix of delicate and punk," - Angelo Flaccavento
Office
The Comme des Garcon headquarters is located in the Sumitomominamiaoyama Building Minato-Ku, in Japan. They occupy five floors of the somewhat ordinary office building, it is surprisingly functional. There are no receptionists to greet you, but this isn't a problem as very few people are welcomed there, and that also applies to family members. 'No husbands, boyfriends, wives, daughters — never… it's a very secretive place." - Adrian Joffe. The New York Times, February 24, 2008
Patterners
The so-called patterns at Comme des Garçon are Rei Kawakubo, Junya Watanabe, Tao Kurihara and Fumito Ganryu. They sculpt from fabric, creating the most extraordinary shapes and weird and wonderful lumps, bumps and magical landscapes.
Play
Designed by is probably one of the most recognisable and most 'popular' brands to come out of Comme des Garçons. Developed by Adrian Joffe to introduce a casual luxury line to the portfolio in 2002, and has become a huge hit in the streetwear community. When Filip Pagowski ( the artist who created the iconic heart symbol) was asked about the origin he replied.
"PLAY heart image happened simultaneously with, but independently of the creation of the PLAY line. It's as if we both were affected subliminally by each other's work. I submitted it for another CdG project, for which it never made it, but eventually it resurfaced; making bigger waves as a logo for the PLAY line. By then I've been already working for CdG, on and off for about 2 and a half years. Of course I was familiar with Rei's work. I discovered CdG in the early '80s and was a fan ever since." He continues, "I got this idea of a red heart with a set of eyes. I drew it instantaneously and the first draft was it. The rest is history." - Filip Pagowski
Process
"It's a mix of respect for the fashion business but yet, within that, we do things our own way. It's never shocking for the sake of shocking."
Comme des Garçons PARFUMS
Rei Kawakubo and Comme des Garcons have become known (and loved) for breaking rules in the fragrance world, including such Synthetic fragrances, including Garage, Soda, Dry Clean and Tar! They approach fragrance as they do their fashion: taking a single ingredient (such as incense, or leaves, or sherbet), and interpreting it in myriad ways. Leading to a cult-like following of fans.
"A fragrance should always be worn for your own pleasure, not necessarily to seduce. It's not conceived for a man or a woman: it's 'non-gender', only for the one who loves it." - Rei Kawakubo
Quasimodo
Kawakubo's Spring/Summer 97 collection, 'Body Meets Dress, Dress Meets Body' often given the nickname it the "Lumps and Bumps" or "Quasimodo" collection is one of Comme des Garçon's most famous for being her most misunderstood. But Kawakubo was happy with the misinterpretation as she mentioned after 'Body Meets Dress, Dress Meets Body' that: "You can tell if it's a good collection of people are afraid of it," adding "In 10 years, everyone will love it." (P.S. She was right).
Rei Kawakubo
Rei Kawakubo is the creative director of Comme des Garçons, she never trained to be a fashion designer; instead, she studied art and literature at Keio University. The Japanese designer entered the fashion industry in 1967 when she became a freelance stylist. Two years later, she started making clothes under Comme Des Garçons. Then in 1975, she opened her first Tokyo boutique.
Retail
"My clothes and the spaces they inhabit are inseparable they are one and the same. They convey the same vision, the same message, and the same sense of values." - Rei Kawakubo
Revolution
"I never intended to start a revolution. I only came to Paris with the intention of showing what I thought was strong and beautiful. It just happened that my notion was different from everyone else's." - Rei Kawakubo
Robe de Chambre
Robe de Chambre was the previous name for the line that has now become Comme des Garçons Comme des Garçons.
Six Magazine
In 1981, Rei Kawakubo created the bi-annual large format magazine Six Magazine. Which was designed to be a creative journal of the inspiration Rei Kawakubo found throughout the seasons. The magazine takes its name from the abbreviation of "sixth sense".
Comme des Garçons SHIRT
Comme des Garçon focuses on a single garment, as you may have guessed its the shirt. Catering for both men and women, Comme des Garçons SHIRT is a range that offers fun and colour to what is normally a boring staple to a wardrobe.
Comme des Garçons SHIRT BOY
Launched in 2015 Comme des Garcons SHIRT BOY offers the same as Comme des Garçons SHIRT but leans more on graphics, bright colours and a sense of imperfection. It's a line that is attainable both in terms of price and aesthetics.
Tao Kurihara
After Tao Kurihara graduated from the prestigious fashion program of Central St. Martins in London, she was mentored at Comme des Garcons as a protégé of Rei Kawakubo and Junya Watanabe. Tao Kurihara involves the simple combination of knits and lingerie into a hybrid sort of design.
tao Comme des Garcons
Tao Kurihara has decided to close her Tao label, which trades within Rei Kawabuko's Comme des Garcons.
Typeface
The typeface chosen for a logo on clothing will become the identity of a well-known brand, which means that typography will also have a deep impact on the consumer's perception. Yet many brands still use common and inexpensive fonts such as Futura and Helvetica. Turning simple pieces into unobtainable luxury items, as seen with Virgil Abloh's "Everything in Quotes" branding.
For most brands, it feels lazy as it doesn't support their ethos, whereas for Comme des Garcons who use Helvetica Neue 75 Bold (with a few alterations) it fits. Helvetica is sleek, no-nonsense and shows simplicity and modernity.
One thing to add is the the 'Ç' ( the cedilla) has been changed to an Asterisk and although I couldn't find an explanation for this maybe it is to signify that there is something more or maybe Rei Kawakubo just liked the cedilla from Françoise Hardy's name.

Tricot Comme des Garçons
Tricot means knitwear in French, and the brand has expanded from knits-only to a wide variety of fabrics. It is designed by Tao Kurihara, a former mentee of Watanabe's.
Urbanism
Unlike the location of more commonly found stores, such as Prada or Burberry, Comme des Garcons place their showrooms in evasive locations. The lack of loud broadcasting of the traditional stores, as if to be a breath of fresh air for those who want to find privacy and secrecy from the city.
Urine
In September 1994, Comme des Gar­cons introduced its first perfume called Eau de parfum. On its release, it was placed around the swim­ming pool at the Ritz Hotel in Paris with its urine-yellow liquid. The fragrance's concept was "Works like a medicine, behaves like a drug."
Void
"The void is important," said Rei Kawakubo in 2000. Rei likes to work with space and emptiness within a lot of her projects. Rei Kawakubo works with Mu (emptiness) and ma (space) to evoke the visual effect as one of both absence and presence.
Women
"I make clothes for a woman who is not swayed by what her husband thinks" — Rei Kawakubo.
X
(collaborations)
Comme des Garcons has such a large number of exceptional collaborations from Nike, Supreme to Pharrell Williams or even most famously in 2008 with H&M were in Tokyo hardcore fans queued for twelve hours. One of the most iconic is the Rei Kawakubo x Louis Vuitton, and with what Rei did with the bag. Cutting holes into so there is almost a face, and it arguably no longer functioned as a bag anymore, or rather it requires you to figure out a way to personally use it to create your own style.
"There's no point to collaborate with another designer or artist unless there's something that can be found in between. For example, we don't make swimwear so we collaborated with Speedo who is the best swimwear makers. So there has to be some meaning to it. Many collaborations these days are meaningless, therefore we try to find collaborators who can have an added value for both parties. So the first collaboration we did was with Vivienne Westwood fifteen years ago. It was a shared philosophy, creation and freedom of expression. We hope for accidents and unexpected synergies that can be created through our collaboration"s" - Adrian Joffe
Yohji Yamamoto
Yohji Yamamoto started his early life studying a degree in law in 1966 at Keio University, later switching paths to assist his mother in her dressmaking business, from where he learned his tailoring skills. He then went on to study fashion design at Bunka Fashion College in 1969.
In 1970 Rei Kawakubo met Yohji Yamamoto and started their professional and romantic relationship. They both produced clothes and debuted collections in the 1980s that shocked critics. They both continued to collaborate for several years redefining fashion and feminine beauty.
Zagorsk
Zagorsk is one of the Perfumes from Comme des Garcons Series 3 launched in 2002 where the incense was devoted to the five main spiritual teachings of humanity. It is light, replicating Russian monasteries placed in endless snowy Russian planes, the odour of light birch and dark pine tree woods, and northern red forest fruits.
Zipper Wallet
The Classic Zipper Wallet from Comme des Garcons is one of the oldest lines in the Comme portfolio, it was introduced in the 1980s. The wallet has and always will be part of the financial backbone of the CdG business.
---
BOOKS
⁺ Art of the In-Between by Andrew Bolton - Amazon
⁺ Rei Kawakubo by Terry Jones - Amazon
⁺ Japanese Fashion Designers by Bonnie English - Amazon
⁺ Future Beauty: 30 Years of Japanese Fashion by Akiko Fukai - Amazon
⁺ Issey Miyake by Kazuko Koike - Amazon
⁺ Yohji Yamamoto by Yohji Yamamoto - Amazon
⁺ About Face: Performing Race in Fashion and Theater - Amazon
⁺ Pattern Magic by Tomoko Nakamichi - Amazon
Rare Books
⁺ Rei Kawakubo: ReFusing Fashion
⁺ Comme Des Garcons: Unlimited
⁺ Rei Kawakubo and Comme des Garcons (Blueprint Monographs)
PDF's
⁺ SIX Number 3 : 1989 (PDF)
⁺ Comme des Garcons - Comme des Garcons (PDF)
⁺ Yohji Yamamoto - SS02 Collection Lookbook (PDF)
Documentaries and Videos
⁺ Runway Analysis: Comme des Garcons Homme Plus SS18 by Bliss Foster
⁺ The Comme des Garcons Universe by Avery Ginsberg
⁺ The Challenge of Rei Kawakubo on Vimeo (Japanese)
⁺ Anti-Fashion Documentary by M2M.tv
⁺ Rei Kawakubo in 50 words or less by M2M.tv
Further Reading
⁺ Dover Street Market.com
⁺ Comme-des-Garcons.com
⁺ Comme-des-Garcons.tumblr.com
⁺ FashionEncyclopedia Rei Kawakubo
⁺ FashionModelDirectory Rei Kawakubo
⁺ Vogue on Comme des Garçons Spring 1997 ready to wear
⁺ Racked on Comme des Garcons Brands
⁺ Vogue on Comme des Garcons Paolo Roversi Fashion Photography
⁺ Elle Rei Kawakubo Interview
⁺ Perfume Society Comme des Garcons
⁺ TimesTalks: Adrian Joffe, Andrew Bolton and Vanessa Friedman
⁺ NYT on Rei Kawakubo, the Nearly Silent Oracle of Fashion
⁺ 032c on CDG
⁺ New Yorker on The Unsettling Vision of Rei Kawakubo
⁺ The Guardian rare interview designer Rei Kawakubo
⁺ Dazed on Everything you need to know about Comme des Garcons
⁺ NYT on Positive Energy: Comme at 40
⁺ Grailed.com on Comme des Garcons brand guide
⁺ GQ on What You Need to Know About Comme des Garcons Before Met Gala
⁺ AnOther on Alexander McQueen Turned Model for Comme des Garçons
⁺ Role Models: John Waters on Rei Kawakubo
⁺ The Misfit on TheNewYorker
⁺ Designers and Their Work - Style Zeitgeist
⁺ Frederic Sanchez.com
⁺ Highsnobiety on Ganryu Comme des Garcons Shutters
⁺ ICA Off-Site at Dover Street Market: Interview with Adrian Joffe
⁺ Hypebeast on Adrian joffe and the Idea of Comme des Garcons
⁺ Refusing Fashion, MoCaD 2008 (Portuguese)
⁺ Introducing: GANRYU & COMME des GARÇONS HOMME
⁺ Dazed on ten collections that horrified the runway
---
Here is a list of every Comme des Garcons Runway show I could find. Due to a lot of the links being through YouTube some of the links may change if they become unavailable. There are also a few shows that I was unable to source, If you have a link to any please leave a comment below.
Comme des Garçons
⁺ Comme des Garçons FW 2020/21
⁺ Comme des Garçons SS20
⁺ Comme des Garçons FW 2019/20
⁺ Comme des Garçons SS19
⁺ Comme des Garçons FW 2018/19
⁺ Comme des Garçons SS18
⁺ Comme des Garçons FW 2017/18
⁺ Comme des Garçons SS17
⁺ Comme des Garçons FW 2016/17
⁺ Comme des Garçons SS16
⁺ Comme des Garçons FW 2015/16
⁺ Comme des Garçons SS15
⁺ Comme des Garçons FW 2014/15
⁺ Comme des Garçons SS14
⁺ Comme des Garçons FW 2013/14
⁺ Comme des Garçons SS13
⁺ Comme des Garçons FW 2012/13
⁺ Comme des Garçons SS12
⁺ Comme des Garçons FW 2011/12
⁺ Comme des Garçons SS11
⁺ Comme des Garçons FW 2010/11
⁺ Comme des Garçons SS10
⁺ Comme des Garçons FW 2009/10
⁺ Comme des Garçons SS09
⁺ Comme des Garçons FW 2008/09
⁺ Comme des Garçons SS08
⁺ Comme des Garçons FW 2007/08
⁺ Comme des Garçons SS07
⁺ Comme des Garçons FW 2006/07
⁺ Comme des Garçons SS06
⁺ Comme des Garçons FW 2005/06
⁺ Comme des Garçons SS05
⁺ Comme des Garçons FW 2004/05
⁺ Comme des Garçons SS04
⁺ Comme des Garçons FW 2003/04
⁺ Comme des Garçons SS03
|
⁺ Comme des Garçons FW 1999/00
|
⁺ Comme des Garçons FW 1994/95
|
⁺ Comme des Garçons FW 1992/93
⁺ Comme des Garçons SS92
⁺ Comme des Garçons SS91
⁺ Comme des Garçons SS87
⁺ Comme des Garçons FW 1984/85
⁺ Comme des Garçons FW 1983/84
Comme des Garçons SHIRT
⁺ Comme des Garçons SHIRT SS20
⁺ Comme des Garçons SHIRT FW 2019/20
⁺ Comme des Garçons SHIRT SS19
⁺ Comme des Garçons SHIRT FW 2018/19
⁺ Comme des Garçons SHIRT SS18
⁺ Comme des Garçons SHIRT FW 2017/18
⁺ Comme des Garçons SHIRT SS17
⁺ Comme des Garçons SHIRT FW 2016/17
⁺ Comme des Garçons SHIRT SS16
⁺ Comme des Garçons SHIRT FW 2015/16
⁺ Comme des Garçons SHIRT SS15
⁺ Comme des Garçons SHIRT FW 2014/15
⁺ Comme des Garçons SHIRT SS14
⁺ Comme des Garçons SHIRT FW 2013/14
⁺ Comme des Garçons SHIRT SS13
⁺ Comme des Garçons SHIRT FW 2012/13
⁺ Comme des Garçons SHIRT SS12
⁺ Comme des Garçons SHIRT FW 2011/12
⁺ Comme des Garçons SHIRT SS11
⁺ Comme des Garçons SHIRT FW 2010/11
⁺ Comme des Garçons SHIRT SS10
⁺ Comme des Garçons SHIRT FW 2009/10
Comme des Garçon Homme Plus
⁺ Comme des Garçons Homme Plus FW 2020/21
⁺ Comme des Garçons Homme Plus SS20
⁺ Comme des Garçons Homme Plus FW 2019/20
⁺ Comme des Garçons Homme Plus SS19
⁺ Comme des Garçons Homme Plus FW 2018/19
⁺ Comme des Garçons Homme Plus SS18
⁺ Comme des Garçons Homme Plus FW 2017/18
⁺ Comme des Garçons Homme Plus SS17
⁺ Comme des Garçons Homme Plus FW 2016/17
⁺ Comme des Garçons Homme Plus SS16
⁺ Comme des Garçons Homme Plus FW 2015/16
⁺ Comme des Garçons Homme Plus SS15
⁺ Comme des Garçons Homme Plus FW 2014/15
⁺ Comme des Garçons Homme Plus SS14
⁺ Comme des Garçons Homme Plus FW 2013/14
⁺ Comme des Garçons Homme Plus SS13
⁺ Comme des Garçons Homme Plus FW 2012/13
⁺ Comme des Garçons Homme Plus SS12
⁺ Comme des Garçons Homme Plus FW 2011/12
⁺ Comme des Garçons Homme Plus SS11
⁺ Comme des Garçons Homme Plus FW 2010/11
⁺ Comme des Garçons Homme Plus SS10
Noir Kei Ninomiya
⁺ Noir Kei Ninomiya SS 2020
⁺ Noir Kei Ninomiya FW 2019/20
⁺ Noir Kei Ninomiya SS 2019
⁺ Noir Kei Ninomiya FW 2018/19
Junya Watanabe
⁺ Junya Watanabe FW 2020/21
⁺ Junya Watanabe SS20
⁺ Junya Watanabe FW 2019/20
⁺ Junya Watanabe SS19
⁺ Junya Watanabe FW 2018/19
⁺ Junya Watanabe SS18
⁺ Junya Watanabe FW 2017/18
⁺ Junya Watanabe SS17
⁺ Junya Watanabe FW 2016/17
⁺ Junya Watanabe SS16
⁺ Junya Watanabe FW 2015/16
⁺ Junya Watanabe SS15
⁺ Junya Watanabe FW 2014/15
⁺ Junya Watanabe SS14
⁺ Junya Watanabe FW 2013/14
⁺ Junya Watanabe SS13
⁺ Junya Watanabe FW 2012/13
⁺ Junya Watanabe SS12
⁺ Junya Watanabe FW 2011/12
Junya Watanabe Man
⁺ Junya Watanabe Man FW 2019/20
⁺ Junya Watanabe Man SS19
⁺ Junya Watanabe Man FW 2018/19
⁺ Junya Watanabe Man SS19
⁺ Junya Watanabe Man FW 2017/18
⁺ Junya Watanabe Man SS18
⁺ Junya Watanabe Man FW 2016/17
⁺ Junya Watanabe Man SS17
⁺ Junya Watanabe Man FW 2015/16
⁺ Junya Watanabe Man SS16
⁺ Junya Watanabe Man SS10
Yohji Yamamoto